How to install Midnight Commander in Linux
{{postValue.id}}
To install Midnight Commander in Linux
A Console Based File Manager in Linux is called Midnight Commander. This File Manager will help you to speed up the activities in the files. Midnight Commander is a free visual file manager software. It allows you to move, copy and delete files, it searches for files and execute scripts in the subshell. Installation of Midnight Commander in Linux is explained in this article.

To Install Midnight Commander
Execute the following command, to install Midnight commander.
[[email protected] ~]# yum install mc -y
Loaded plugins: fastestmirror, langpacks
Loading mirror speeds from cached hostfile
 * base: mirrors.vhost.vn
 * extras: mirrors.vhost.vn
 * updates: mirrors.vhost.vn
Resolving Dependencies
-->  Running transaction check
--->  Package mc.x86_64 1:4.8.7-8.el7 will be installed
.
.
.
Running transaction
  Installing : 1:mc-4.8.7-8.el7.x86_64                                                                                                  1/1
  Verifying  : 1:mc-4.8.7-8.el7.x86_64                                                                                                  1/1
Installed:
  mc.x86_64 1:4.8.7-8.el7                                                                                                                   
Complete!
After the installation, enter " mc" from console to execute it.
[[email protected] ~]# mc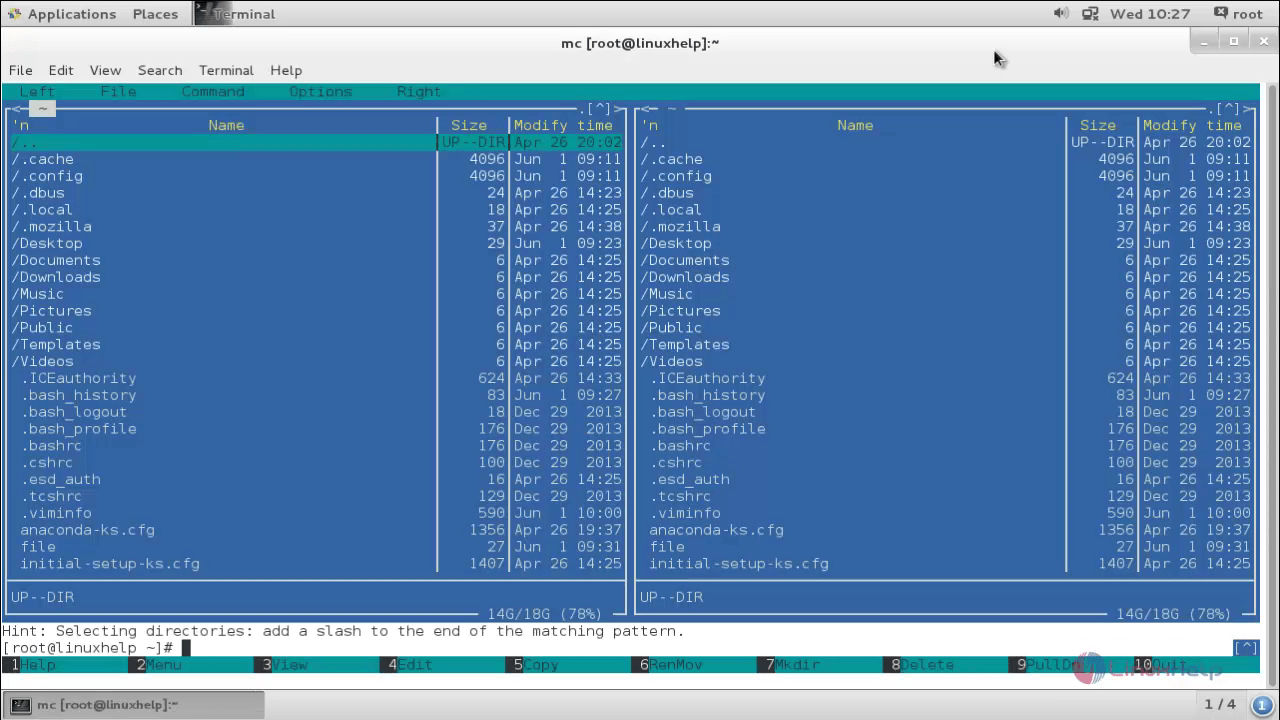 To Copy, Rename, Move, Delete and Create a Directory
To create a New Directory press " F7" key and type the directory name.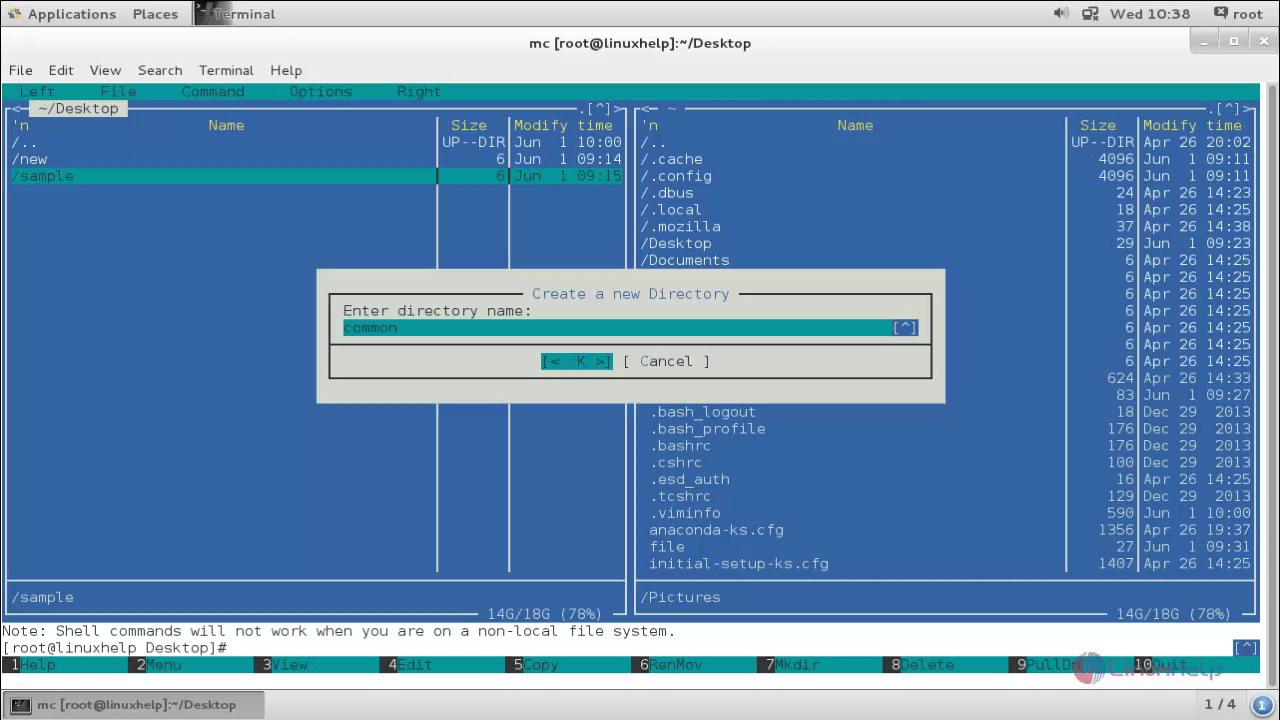 To Delete a directory, select the directory you want to delete and press " F8" button to delete it.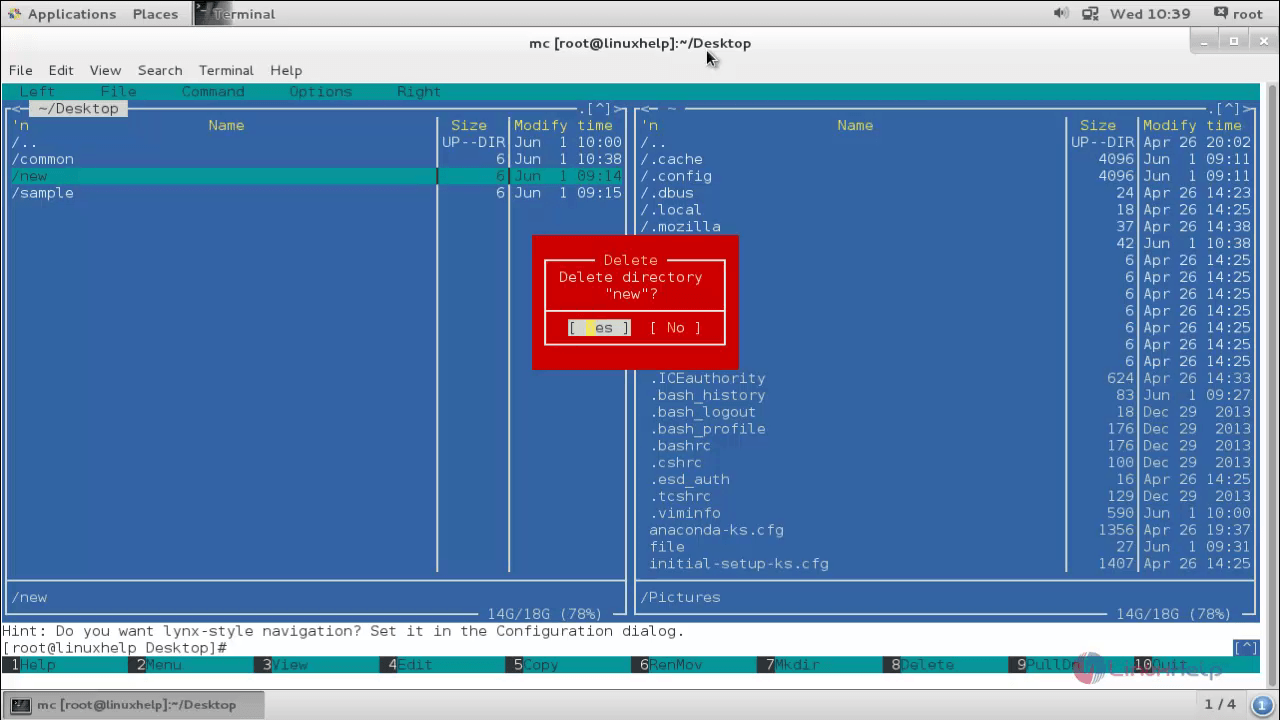 To copy files from one directory to other, just highlight the file and hit " F5" key. If you need to copy multiple files, you have to hit " Insert" for each file you need to copy.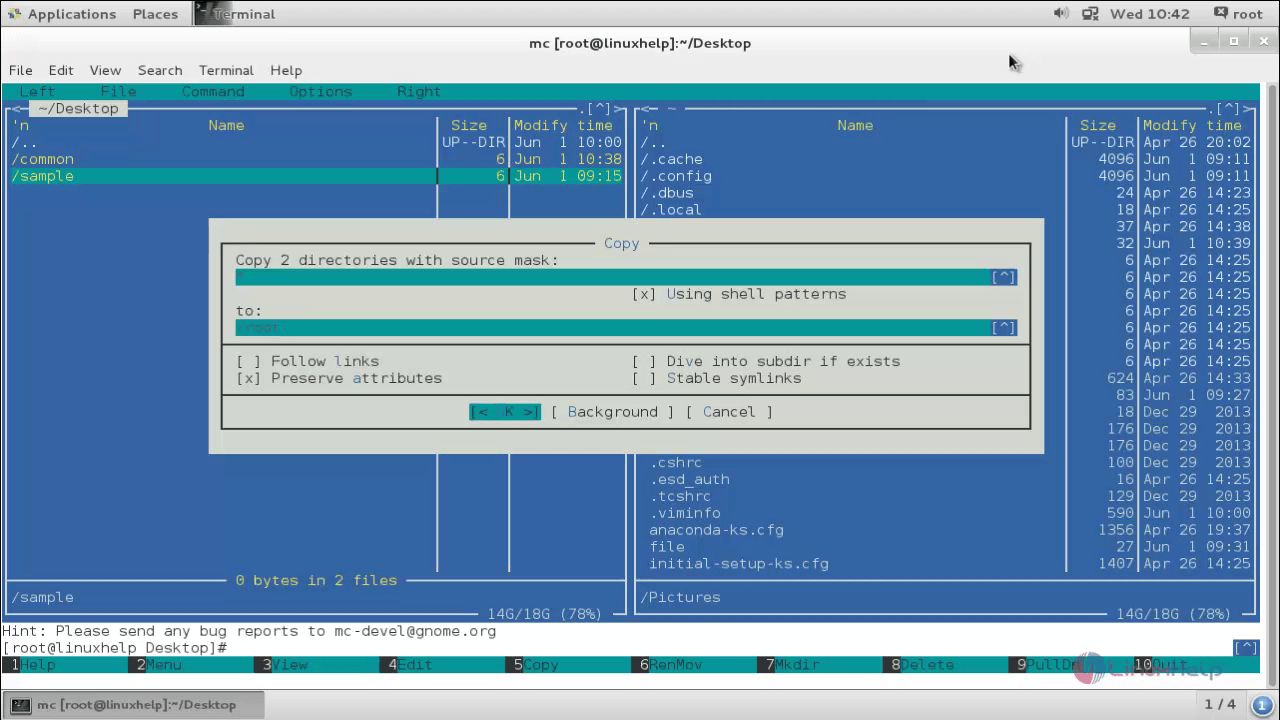 Click OK to commit copy process and use " F6" to move the files.
To rename we need to mention the name of the file.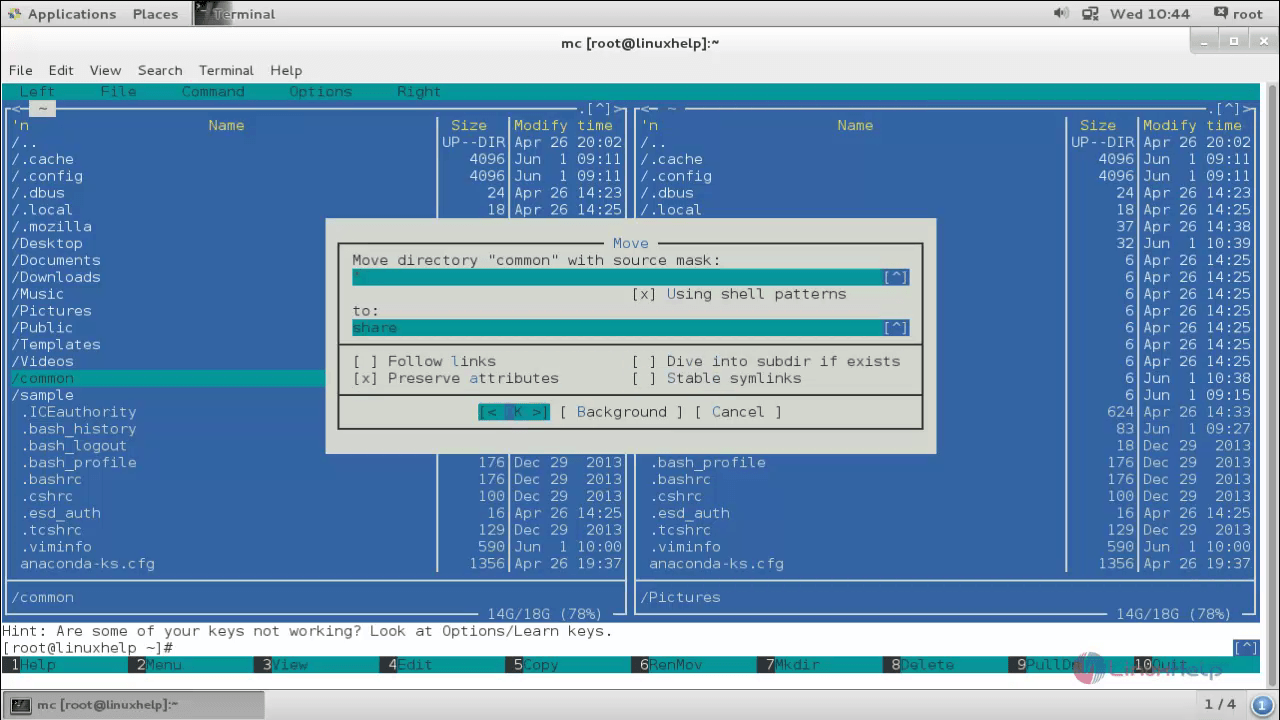 To move, just mention the destination path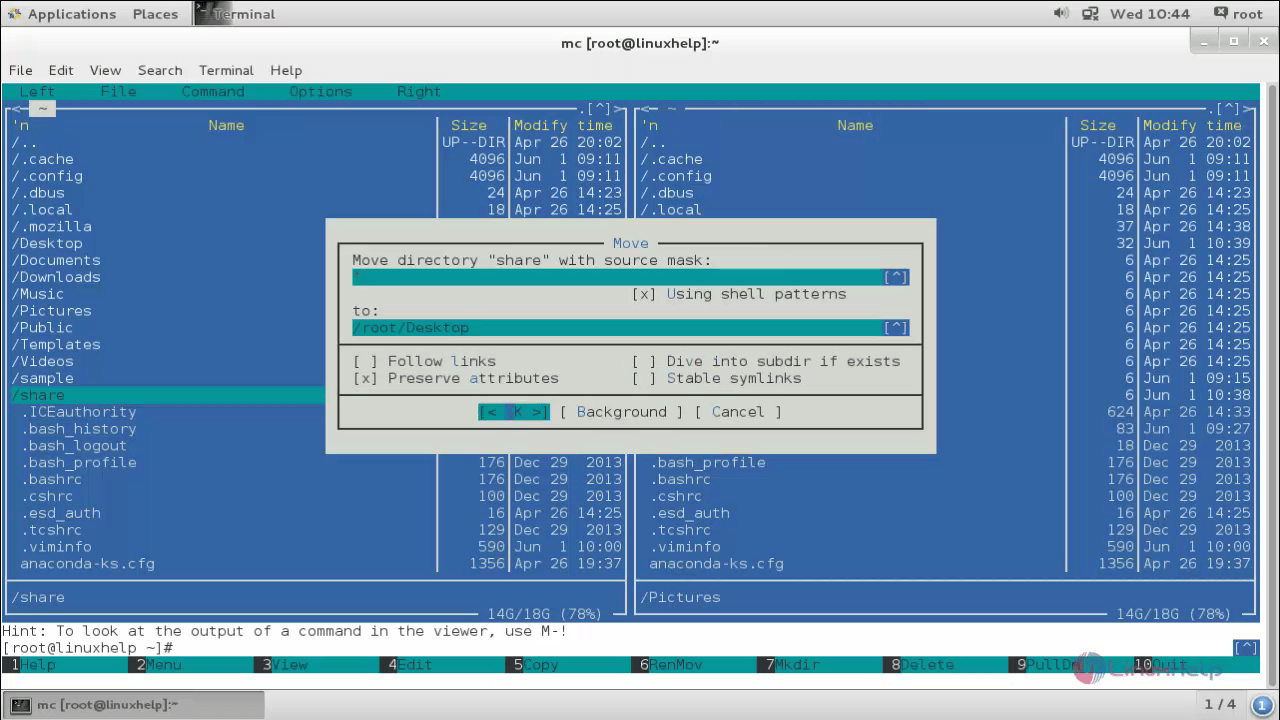 Internal Viewer
In console mode, text editors like vi, nano and Joe are available. If you like to see the content of a file text, hit " F3" .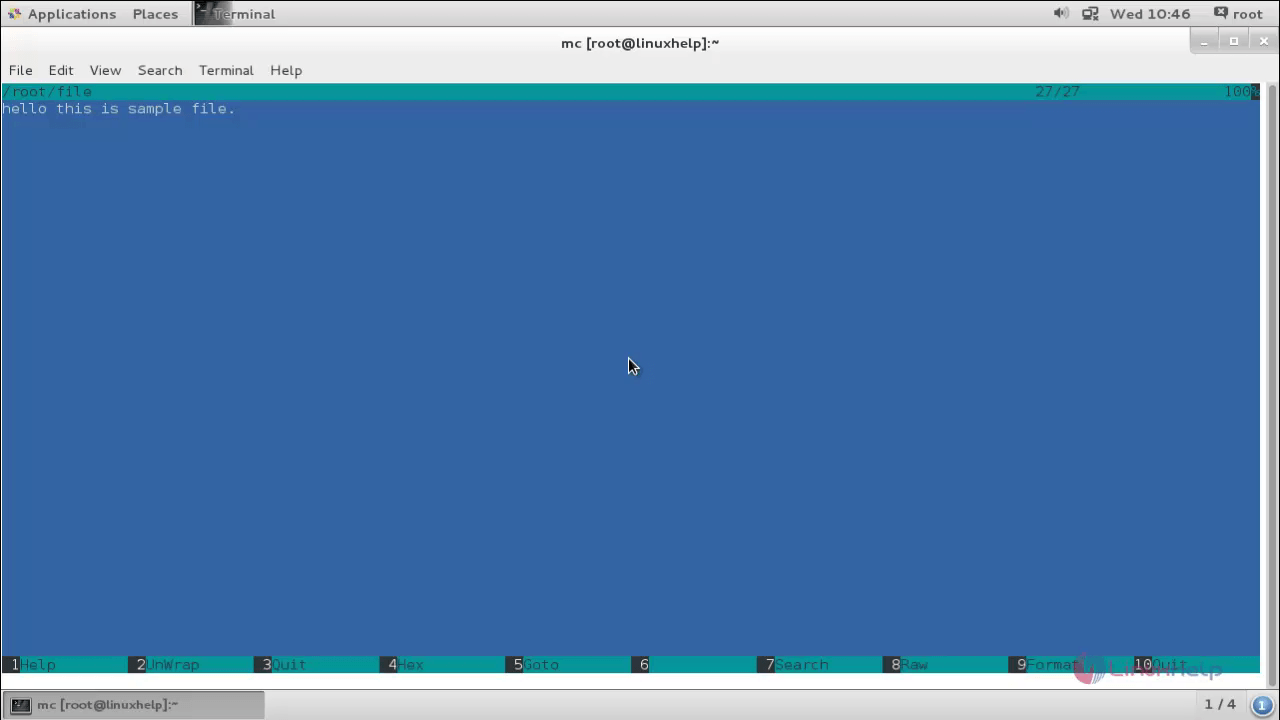 To edit the file press " F4" key, and edit the content and then press " F2" key to save it.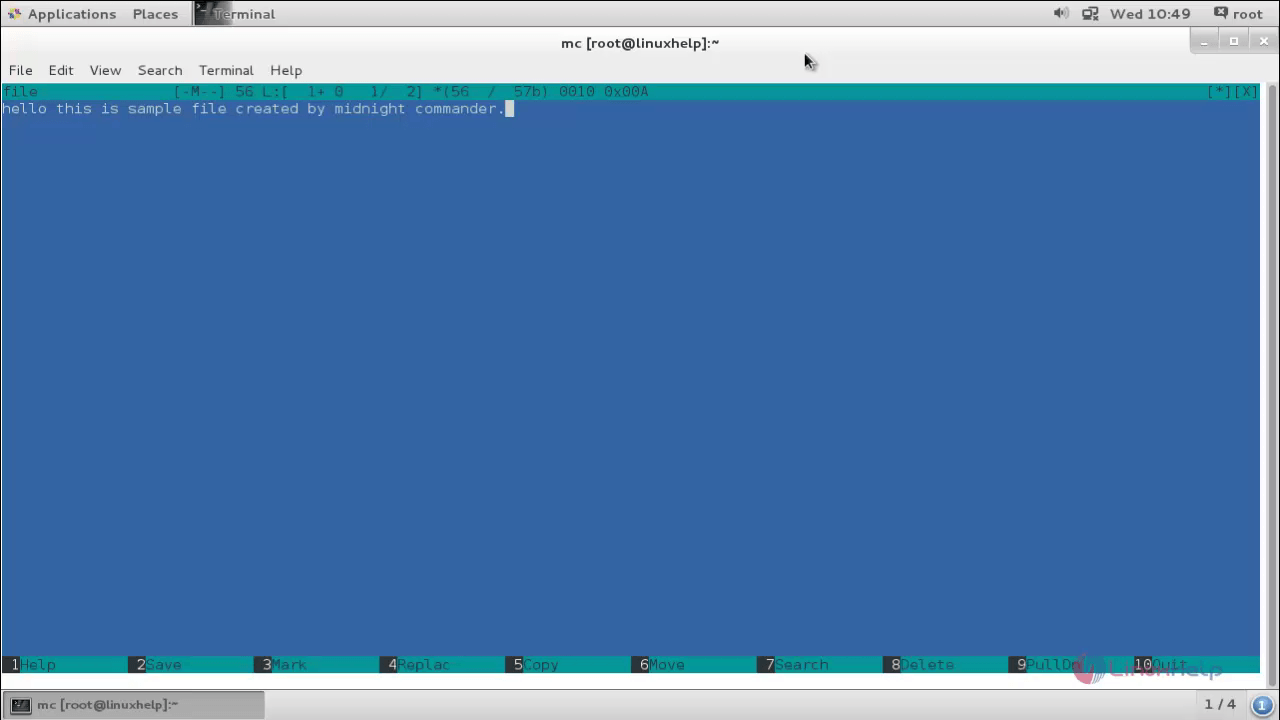 File Permission
Use chmod command to get the Permission to manage read/write the directories and files.
Select a file, then Press" F9" and click File &rarr Chmod or Click " Ctrl-x" and " c" .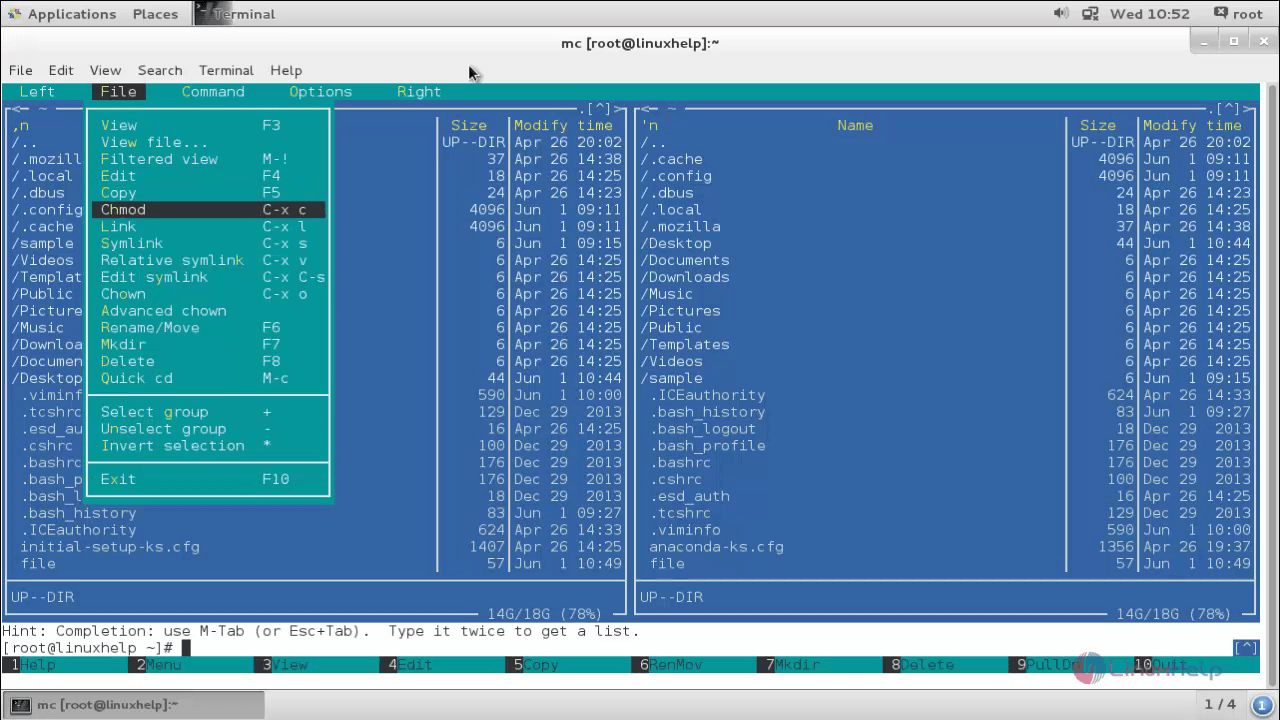 It displays the present permission of the selected file and the other parameters. Make changes according to your requirements.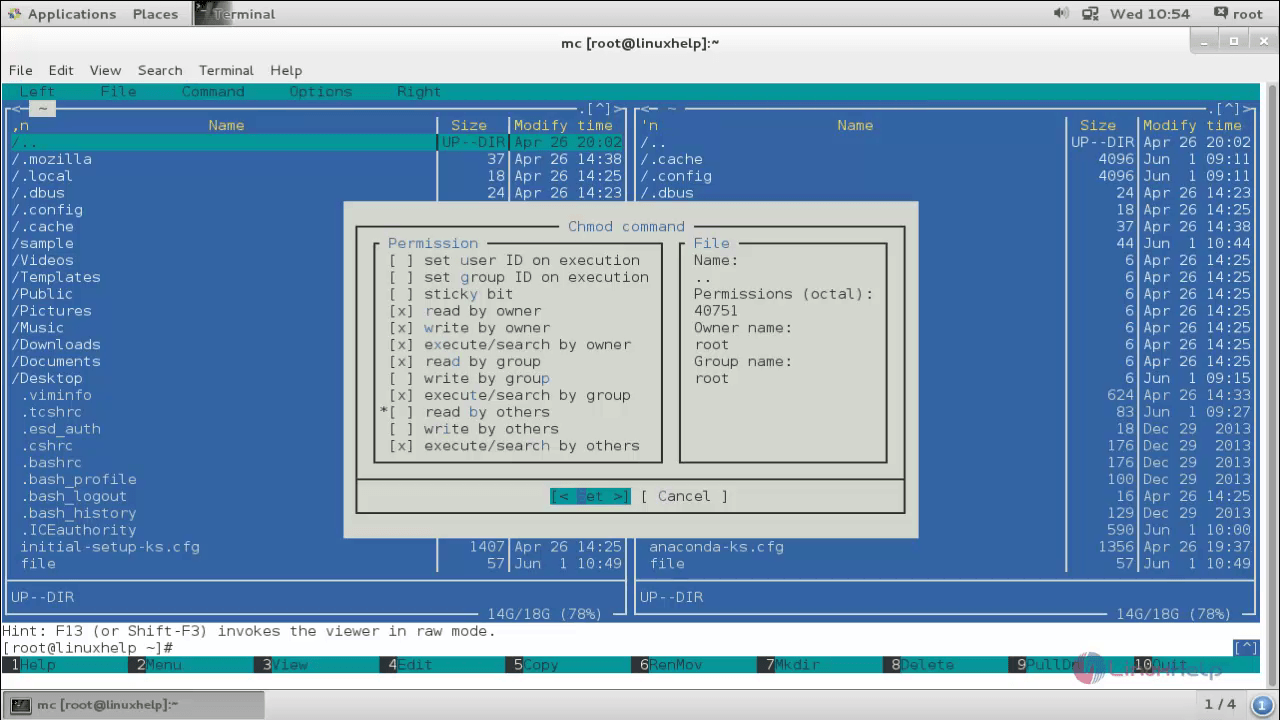 File Owner
Choose a file then press F9 key and click File &rarr Chown or hit " Ctrl-x" and then " o " .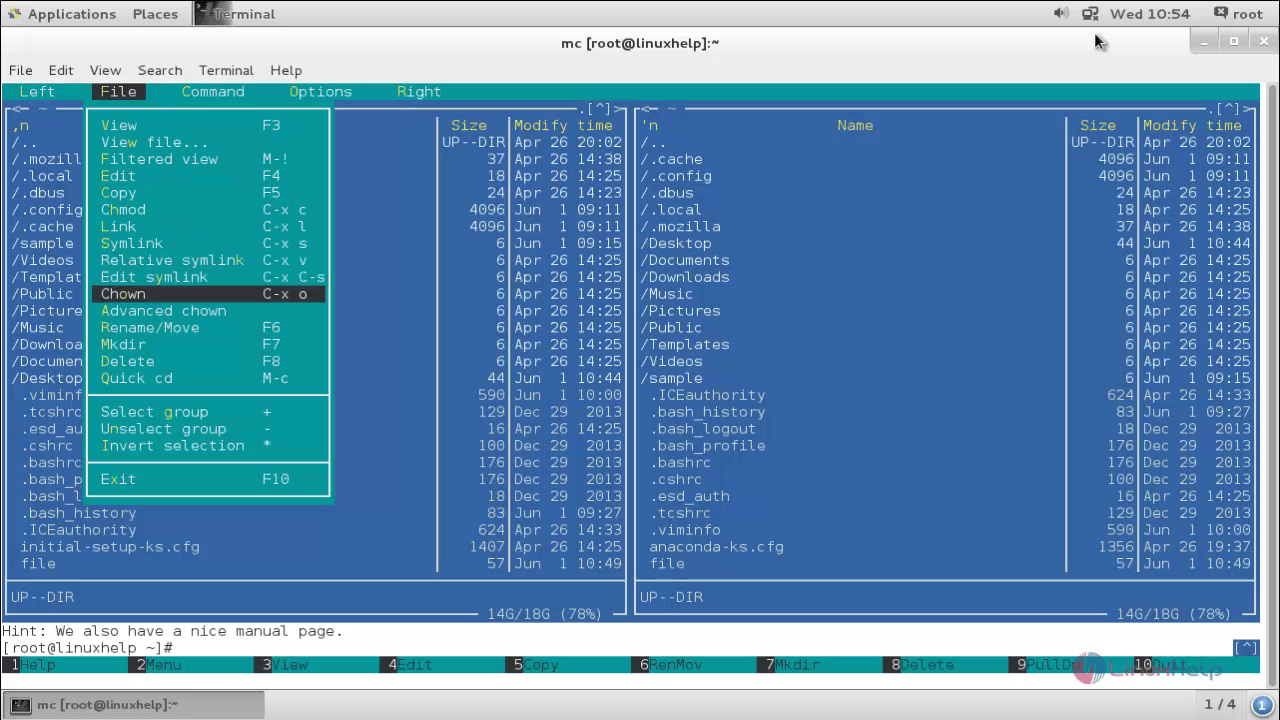 Now set the ownership from the available list of group name and user name. Then click set to apply changes.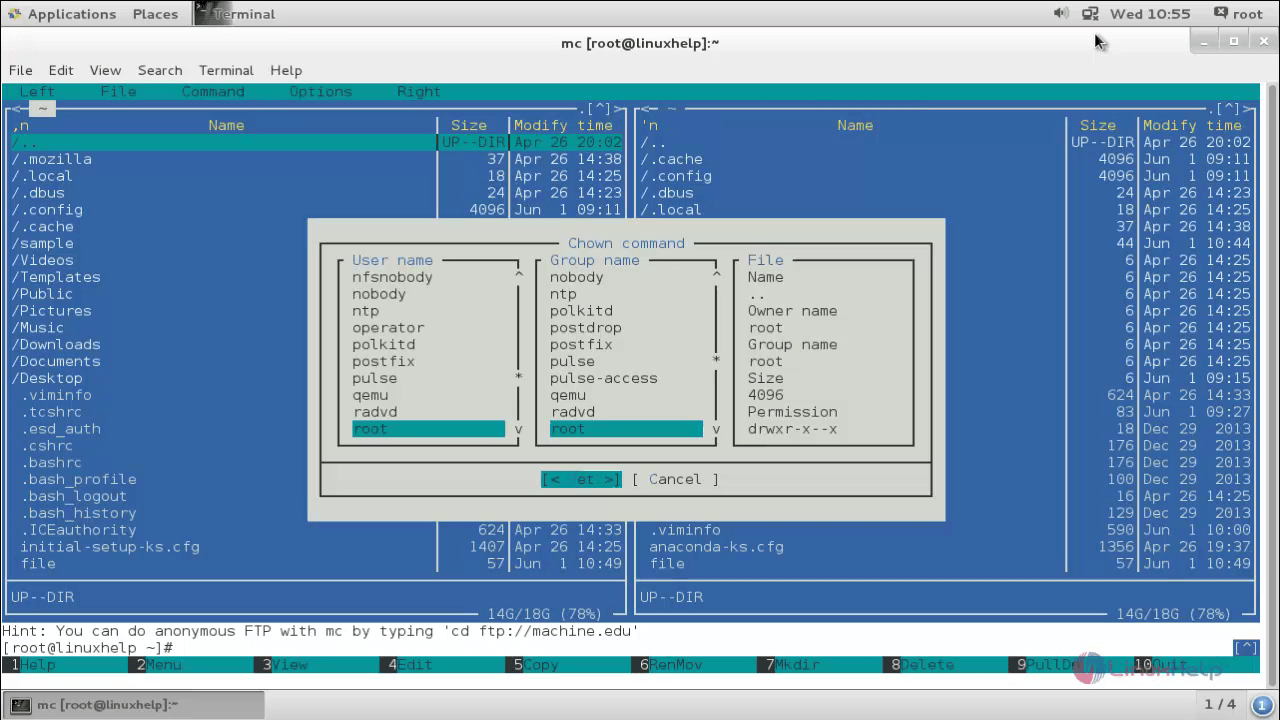 FTP Link
MC shows two columns, left and right. Use one of the column or both to connect remote computer using FTP link. Here we are using right side column for FTP connections, Go to FTP Link.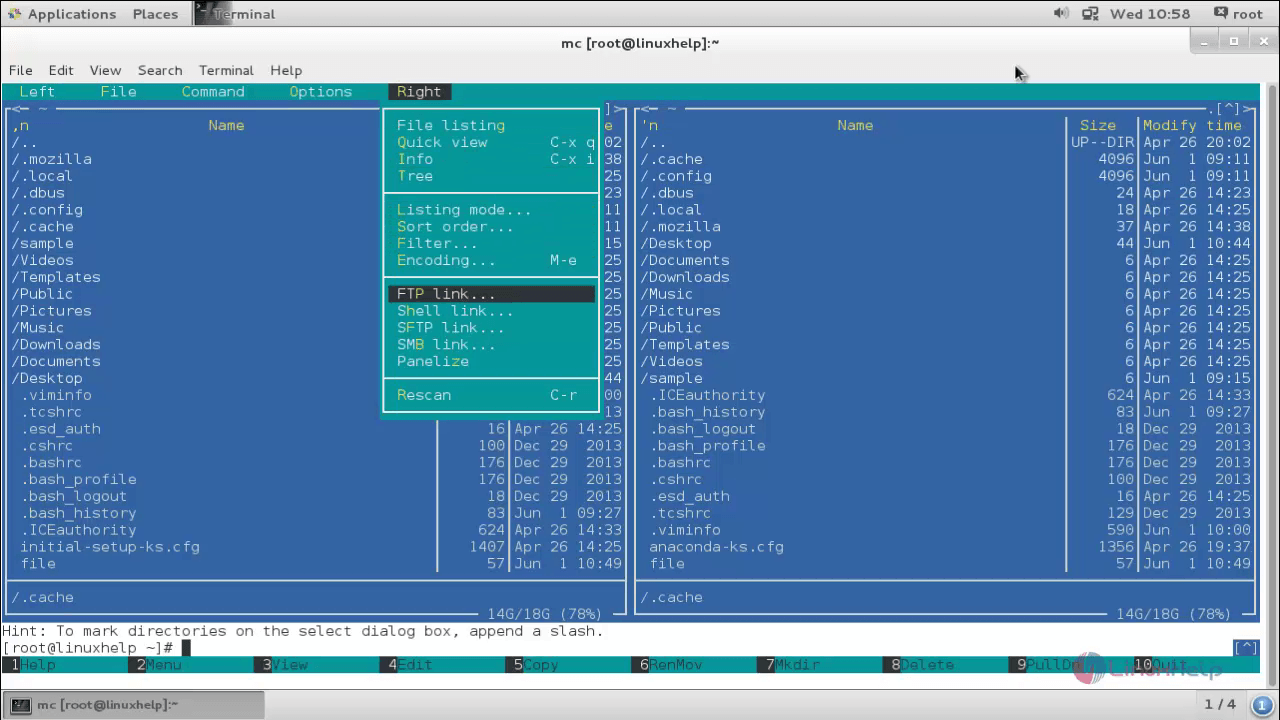 Click enter and type the IP for the FTP server. Then select ok.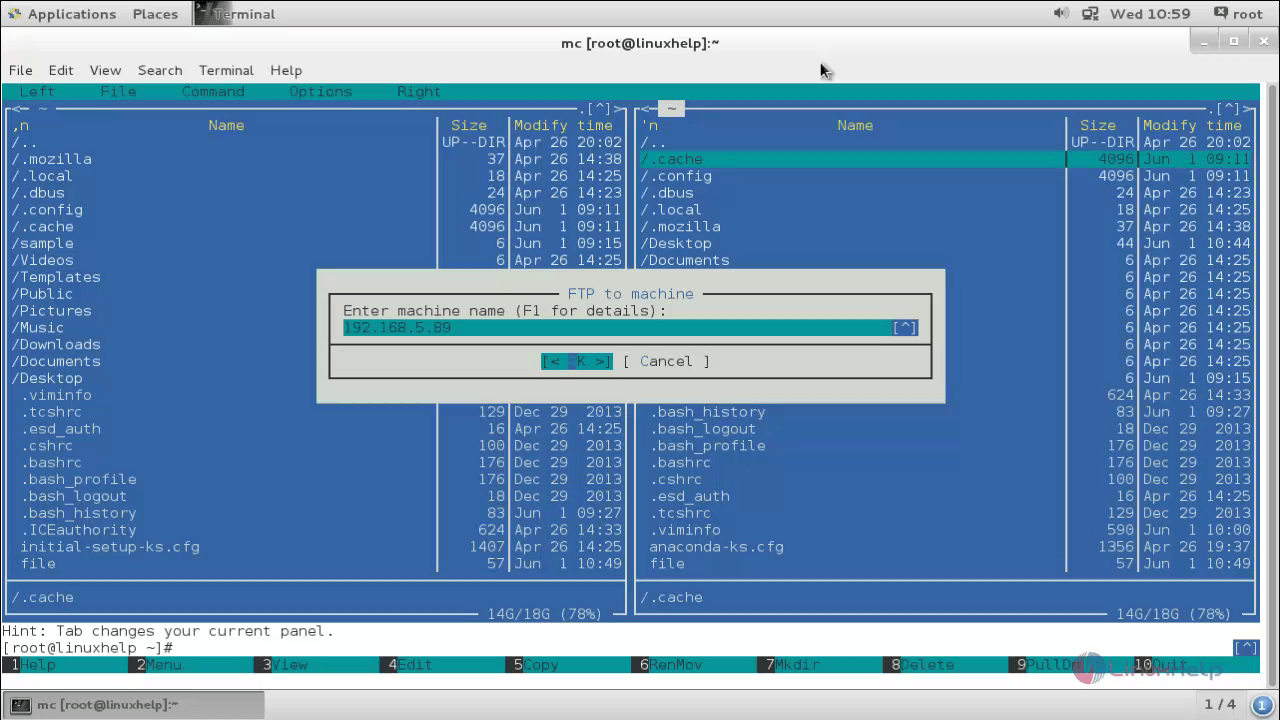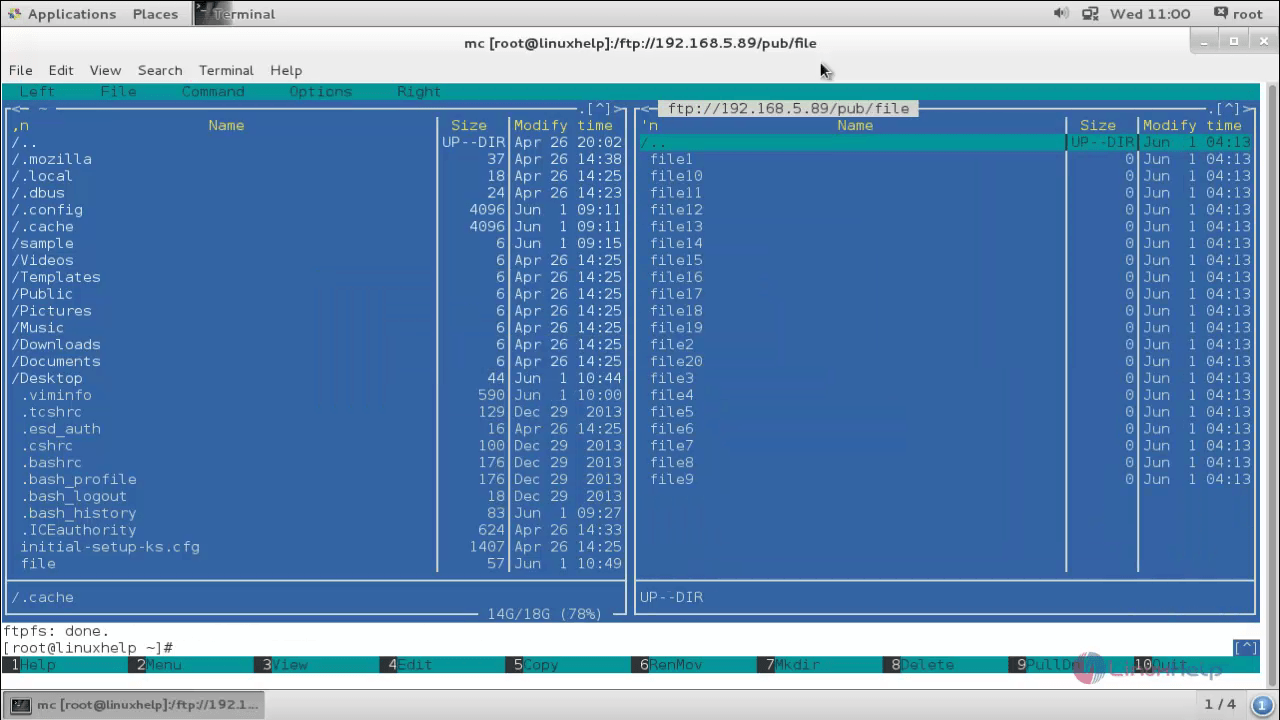 To Exit Midnight Commander
Press F9 and select File and then Exit. Press F10 to quit.